Granada
/
Attractions
/
Sierra Nevada
Sierra Nevada Granada
The national park and the mountains of the Sierra Nevada

Sierra Nevada Granada: All about the national park and the mountains of Sierra Nevada near the Spanish city of Granada.
Visit the Sierra Nevada Mountains
The Sierra Nevada are the high mountains situated nearby the city of Granada. Sierra Nevada means 'snowy mountain chain' in Spanish and from Granada you can see the snowy mountain tops in the distance. After the Alps, this is the highest mountain chain of Europe, with a total of 16 mountain tops above a height of 3000 metres. These mountains were created over 6 million years ago due to tectonic movements. The highest mountain is the Mulhacén (3482 m). The southern position and the many sunshine hours make the Sierra Nevada an ideal area for a sunny holiday in the mountains.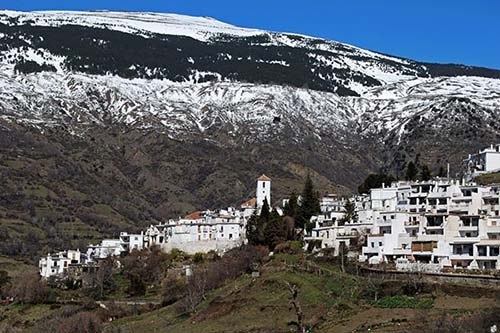 Capileira in the Alpujarras region
Skiing in Pradollano
Sierra Nevada & skiing
For Spaniards, the Sierra Nevada is an important ski area. Popular locations for skiing trips are the municipality of Monachil and the municipalities of Pradollano and Borreguiles in the ski area Solynieve with 85 kilomtres of slopes. Here, you can find snow between December and April.
After the spring has started, the landscape thaws, revealing an oasis of green with colourful flowers. From May to October, the Sierra Nevada is ideal for hiking because of the combination of beautiful landscape and the mild temperature of the high mountains. An important part of the Sierra Nevada is the national park; here you can find special fauna, such as mountain goats, wild boars, badgers, vultures and golden eagles. Here, you can find over 60 different species of birds and a great diversity of vegetation (over 2100 different plants) that can all thrive thanks to the climates variations and height differences.
When you wish to visit the Sierra Nevada from Granada, it is a good idea to have your own (rental) car. No car? Book this organized daytrip. Conversely, from your holiday in the Sierra Nevada, you can easily take a day trip to Granada.
Where is the Sierra Nevada in Spain?
More highlights in Granada:

Our readers say
4.8
(95.28%)
8
reviews
November 21, 2022
Melissa

: "

We had a fantastic holiday in Granada and Spain because of the interesting tips for sightseeing and visiting the amazing Alhambra.

"