Granada
/
Attractions
/
Alcaicería market
La Alcaicería Granada
La Alcaicería Market & Big Baazar in Granada

Everything about the Alcaicería market, the Big Bazaar in the centre of Granada. The covered market for souvenirs.
Info La Alcaicería market Granada

Address:
Calle Alcaicería, 1 Granada
Tickets:
The Alcaicería market is free to visit
Opening hours:

Open daily from 10 am to 8:30 pm.
In August and September until 9 pm.
Closed on sunday from January 6th to March 19th.

Website:
alcaiceria.com
Extra info:
Beware, the busy and narrow street is popular for pickpockets.
Alcaicería market Granada
The Alcaicería market is Granada's Big Bazaar and the original Moorish silk market. Originally, this was a range of streets between the Plaza Nueva and Plaza Bib-Rambla, filled with Arab silk stalls, spices and other valuable goods. Nowadays, the only remaining part of the bazaar is the Calle Alcaicería. It is an area with a rich history and local culture where interesting and exotic items are still for sale. Think of traditionally painted ceramics, inlaid wood and stained glass lamps. The bazaar of Granada is very touristy and the narrow streets mainly consists of small souvenir and fabric shops.
'Alcaicería'
The name Alcaicería has Roman origins, as it means 'al-Kaysar-ia, or 'Ceasar's place' in Arabic. This name was to thank the Byzantian emperor Justinianus after he had granted the Arabs the exclusive rights to produce and sell silk in the sixth century. The original Alcaicería was built in the 15th century. Unfortunately, it was destroyed by a fire in the 19th century. The current replica is less than half the size of the original, and is also a cheaper and more modern version of this Moorish style.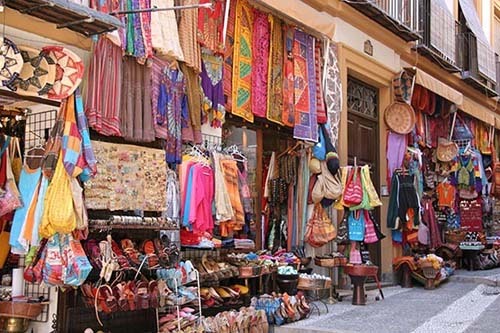 The Arab Market in Granada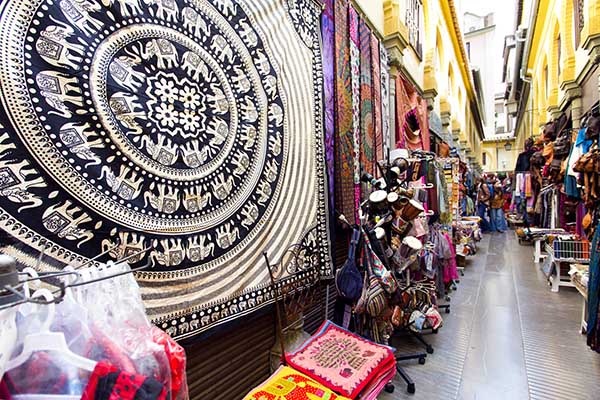 Alcaiceria in Granada
---
Where is La Alcaicería in Granada?
Also close by:

Our readers say
4.8
(95.28%)
8
reviews
July 11, 2023
Melissa

: "

We had a fantastic holiday in Granada Spain because of the interesting tips for sightseeing, tourist attractions and visiting the amazing Alhambra.

"