Granada
/
Public Transport Granada
Granada Public Transport
Public transport in Granada: Bus, train, taxi and transfers

Information about the transport options in Granada: bus tickets, taxi, hop on hop off train and airport. Public transport in Granada Spain.
Public transport in Granada
Although most of Granada's attractions are within walking distance of the city centre, you can also use an excellent network of Rober company buses. Also in the narrow and steep alleys of the Albaícin district are special mini buses. Granada bus station is located 3 km northwest of the city centre on the Carretera de Jaén. Here you will also find all regional buses to other cities in southern Spain. A single ticket within the city costs € 1.20 and you can buy bus tickets directly from the driver.
Do you want to travel between major cities in Spain?
By bus: Book bus tickets at the ALSA's website, this is the bus company that carries out long-distance routes between major Spanish cities; ideal during a tour of Andalusia.
Granada City Train (Hop on hop off bus)
Another easy way to get around in the center of Granada is with a unique city train. The city train runs two routes (Alhambra route and city route) and you can easily get in and out at one of the many stops, such as the narrow streets of the Albaicin and Alhambra districts. A ticket for the train is 8 euros for 1 day or 12 euros for 2 days. Order your train ticket online and you can board the train immediately.
Taxi Granada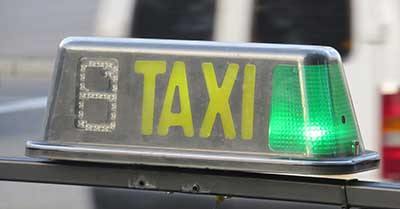 Taxis in Granada are cheap and taxi prices in Granada always go according to meters and prices are always clear in the taxi. As most of Granada's attractions are within walking distance you will probably not be using the taxi much. If you want a taxi, you can keep it on the street when the green light is on. At night a higher night rate applies. A ride from the centre towards the Alhambra Palace uphill will cost you about € 7.
Teleradio Taxi (958 280 654)
Radiotaxi Genil (958 132 323)
Transport from Malaga airport to Granada
Granada has an airport, but this airport does not have flights from foreign airports. If you want to do a citytrip Granada, you must fly to Malaga. From Malaga airport you have a number of options to reach Granada:
A rental car: Malaga - Granada is 125 kilometers, or one and a half hours from Malaga airport by car. For most tourists, Granada will be a stopover during a tour of Andalusia. We have very positive experiences with rental cars in Andalusia with Easyterra, which compares the prices of all possible providers. Find your rental car:
By bus from ALSA: this bus takes you directly from Malaga Airport to Granada in about 2 hours. Granada Bus Terminal is 4 kilometers from the city centre. Costs are around € 13 for a single trip. More information about ALSA buses and timetables. Sometimes it may be faster to travel first to Malaga Bus Station and then take the bus to Granada.
By train: Unfortunately, there are no direct high-speed trains between Malaga and Granada, so a trip will take about 2 1/2 hours and you will need to change several times. The price will be around 20 € for a single trip. More about the trains of Renfe.

Our readers say
4.8
(95.28%)
8
reviews
July 11, 2023
Melissa

: "

We had a fantastic holiday in Granada Spain because of the interesting tips for sightseeing, tourist attractions and visiting the amazing Alhambra.

"