Granada
/
Transport Granada
Transport in Granada
Public transport in Granada: Bus, train, taxi and airport

Information about the transport options in Granada: bus, taxi, train and airport. Public transport in Granada.
Public transport in Granada
Although most of Granada's attractions are within walking distance of the city centre, you can also use an excellent network of Rober company buses. Also in the narrow and steep alleys of the Albaícin district are special mini buses. Granada bus station is located 3 km northwest of the city centre on the Carretera de Jaén. Here you will also find all regional buses to other cities in southern Spain. A single ticket within the city costs € 1.20 and you can buy tickets directly from the driver. If you are visiting Granada's major attractions for several days, then a AlhambraCard may be beneficial for you. More information about the AlhambraCard can be found here.
Do you want to travel between major cities in Spain?
By bus: Book tickets on ALSA's website, this is the bus company that carries out long-distance routes between major Spanish cities; ideal during a tour of Andalusia.
Granada has a train station with good connections to Seville, Madrid and Cordoba. Only Malaga is not easy to reach by train. Train tickets can be booked here atj RENFE.
Alhambra Card - Skip the line tickets & Openbaar vervoer
Tip: The AlhambraCard is recommended if you want to visit several attractions in Granada and make use of public transport. It includes an entrance ticket for the palaces of the Alhambra and Generalife, the Cathedral of Granada with the Royal Chapel, the Monastery La Cartuja, Monastery San Jerónimo and the Science Museum.
This AlhambraCard is valid for 3 days, so very convenient for a longer stay. You avoid queues at the Alhambra. The price is € 49 for adults and children (3-11 years) pay only € 15.50. More info about the AlhambraCard.
Taxi Granada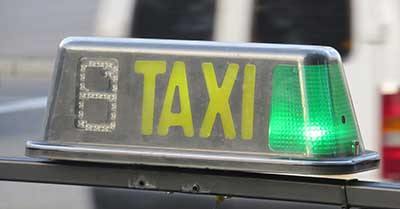 Taxis in Granada are cheap and taxi prices in Granada always go according to meters and prices are always clear in the taxi. As most of Granada's attractions are within walking distance you will probably not be using the taxi much. If you want a taxi, you can keep it on the street when the green light is on. At night a higher night rate applies. A ride from the centre towards the Alhambra Palace uphill will cost you about € 7.
Teleradio Taxi (958 280 654)
Radiotaxi Genil (958 132 323)
Transport from airport to Granada city centre
Granada has an airport, but this airport does not have flights from foreign airports. If you want to do a citytrip Granada, you must fly to Malaga. From Malaga airport you have a number of options to reach Granada:
A rental car: Malaga - Granada is 125 kilometers, or one and a half hours from Malaga airport by car.
By bus from ALSA: this bus takes you directly from Malaga Airport to Granada in about 2 hours. Granada Bus Terminal is 4 kilometers from the city centre. Costs are around € 13 for a single trip. More information about ALSA buses and timetables. Sometimes it may be faster to travel first to Malaga Bus Station and then take the bus to Granada.
By train: Unfortunately, there are no direct high-speed trains between Malaga and Granada, so a trip will take about 2 1/2 hours and you will need to change several times. The price will be around € 20 for a single trip. More about the trains of Renfe.