Granada
/
Attractions
/
CGranada Cathedral
Granada Cathedral & Capilla Real
Cathedral of Granada & The Royal Chapel 'Capilla Real'

Visit the Cathedral of Granada? Read all the tips about the Granada Cathedral with the adjacent Royal Chapel 'Capilla Real'.
Visiting the Catedral de Granada

Address:
Calle Gran Vía de Colón, 5 Granada
Tickets:

Entrance: € 5
Students up to 25 years: € 3.50
0 to 12 years: free entrance cathedral

Hours:

Monday to Saturday: 10:00 - 18:15
Sunday and public holidays: 15:00 - 18:15
On December 25 and January 1 it will be closed

Website:
catedraldegranada.com
Granada Cathedral & Capilla Real
The cathedral of Granada is dedicated to the Virgin of the Incarnation. This grand 16th century church largely dates back to the Renaissance and is 115 metres long and 67 metres wide. The Capilla Real, the Royal burial chapel, abuts the cathedral and can be visited separately.
History Cathedral of Granada
The cathedral's construction was started in 1501 by order of the Catholic royal couple, after Granada had been retaken from the Arabs by the Christians in 1492. The cathedral was built on the former site of a mosque and the burial chapel for the kings was completed first. For a time, the old mosque served as a cathedral. The following decades, the cathedral was built in Renaissance style and finally put to use in 1561. Afterwards, the necessary changes and additions have occurred, such as the Baroque dome church Iglesia del Sagrario in the place of the planned second tower. For nearly 200 years, various architects laboured on the build of this cathedral, making the cathedral of Granada a mix of Renaissance and Gothic styles.
The most original and important part of the cathedral of Granada is the round presbytery in Renaissance style, which is surrounded by a series of chapels. The cathedral's nave is a combination of Renaissance and Gothic style, in which the two large gilded 18th century organs stand out.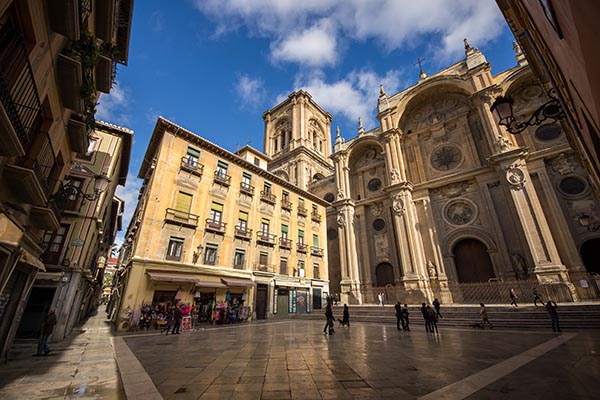 Facade of Granada Cathedral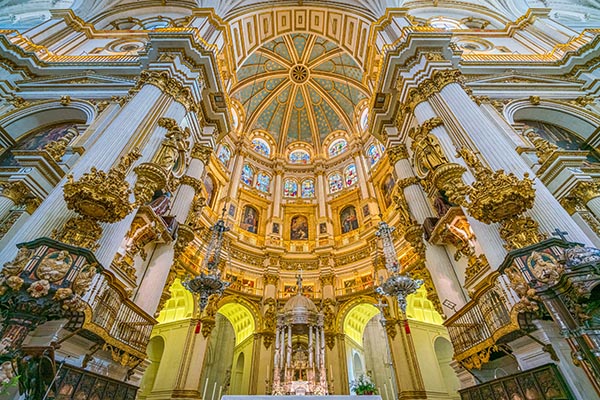 Inside the church
Capilla Real - Royal Chapel of Granada
Info of the Royal Chapel 'Capilla Real'

Tickets:

Entrane: € 5
Up to 12 years: free / 65+ and students: € 3.50

Opening hours

Monday - Saturday: 10:00 - 18:30
Sunday: 11:00 - 18:00
Closed: Good Friday, December 25th and January 1t

Website:
capillarealgranada.com
Next to the cathedral is the Royal burial chapel (Capilla Real) form 1517 with the mausoleum of the Catholic royal couple Ferdinand and Isabella, Juana la Loca and Felipe el Hermoso. The later kings, however, were buried in the monastery El Escorial nearby Madrid. In the sacristy of this chapel, you can now find a collection of art objects that once belonged to queen Isabella.
---
Where is the cathedral in Granada?
Also close by:

Our readers say
4.8
(95.28%)
8
reviews
May 11, 2022
Melissa

: "

We had a fantastic holiday in Granada and Spain because of the interesting tips for sightseeing and visiting the amazing Alhambra.

"