Granada
/
Attractions
/
El Bañuelo
El Bañuelo Granada
Visit the 11th Century Arab Baths of Granada

El Bañuelo (Arab baths) Granada: Everything about El Bañuelo, the old Arab bathhouse in Granada's El Albaícin district.
El Bañuelo - Arab Baths in Granada

Address:
Carrera del Darro, 31 Granada
Entrance fee:
You have two ticket options:

Combi ticket 'Monumentos Andalusíes' for El Bañuelo, Palacio de Dar al-Horra, Corral del Carbón and Casa Morisca for 10.92 € (book your tickets)
Best deal: 'Monumentos Andalusíes' combination ticket including the Alhambra and Nasrid Palaces for 33.50 € (book your tickets)

Opening hours:

September 15th - April 30th: Daily from 10:00 - 17:00
May 1st - September 14th: Daily from 9:00 - 14:30 and 17:00 - 20:30
El Bañuelo, an Arab bathhouse in Granada
El Bañuelo, or the Arab baths in Granada. This is the oldest and best preserved Arab public bath, or hammam, in Andalusia. The baths date back to the 11th century during the Moorish conquest. At the time, this was an important place to wash up, but also to maintain social contact. Most public baths were demolished after the reconquering by the Christians, which makes this building unique. The Christians viewed the Moorish baths as brothels; however, this public bath was built above a house, which saved it from demolition.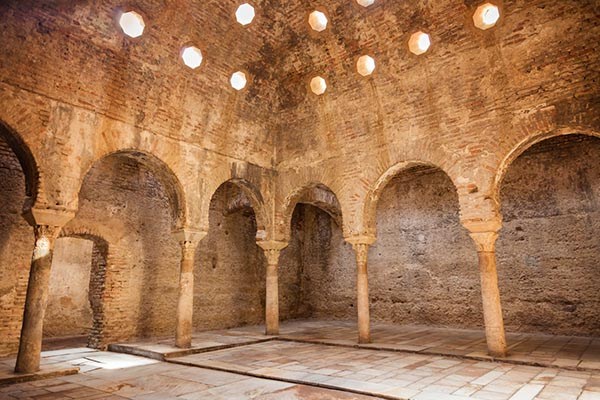 El Bañuelo in Granada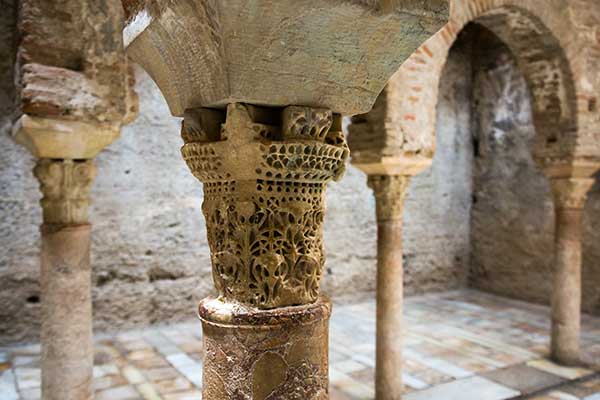 The Arab Baths of Granada
Three rooms of El Bañuelo
The Arab baths consist of three rooms. At the entrance, you will first see the 'cold chamber' (frigidarium), next to that the slightly larger and arched 'warm chamber' (tepidarium). The most important room is the 'hot chamber' (caldarium) with the real baths. This room is beautifully decorated with arches, pillars and marble. Another striking feature are the star-shaped apertures in the ceiling for light and ventilation in the El Bañuelo baths.
Where is El Bañuelo in Granada?
Also close by:

Our readers say
4.8
(95.28%)
8
reviews
July 11, 2023
Melissa

: "

We had a fantastic holiday in Granada Spain because of the interesting tips for sightseeing, tourist attractions and visiting the amazing Alhambra.

"