Granada
/
Attractions
/
Plaza Nueva
Plaza Nueva Granada
Plaza Nueva - Central square in Granada

Everything about Plaza Nueva, the central square in the Spanish city of Granada with the Royal Chancellery 'Real Chancillería' and the church of Iglesia de Santa Ana.
Plaza Nueva in Granada
Plaza Nueva is Granada's oldest square. The square was built to create space and cover the Rio Darro river; this river now flows underneath the square. At the time, this was a popular square for bull fights and public executions. Nowadays, the square is located centrally between the newer centre and the route upwards towards the Albaicin querter via the Carrera del Darro (lovely walking route alongside the Darro river) and the Paseo de los Tristes. Due to its central location, it is a popular area with lots of bars, restaurants (particularly Calle Elvira and Calle Calderería) and hotels. While you are exploring Granada, you will often pass this square.
Royal Chancellery
On one side of the square is the Royal Chancellery or Real Chancillería. This imposing building was built in Renaissance style by Philip II in 1530. From the Royal Chancellery, various courts were run in Andalusia and this building also contains the Supreme Court. In the 17th century they also made a prison in this building.
Iglesia de Santa Ana
On the east side, the square becomes the Plaza de Santa Ana. The Iglesia de Santa Ana church (officially Iglesia de San Gil y Santa Ana) church from 1537 borders this square. This 16th century church is made of bricks and built in mudejar style. The beautiful portal and minaret tower that later came to hold a clock tower are characteristic of this church.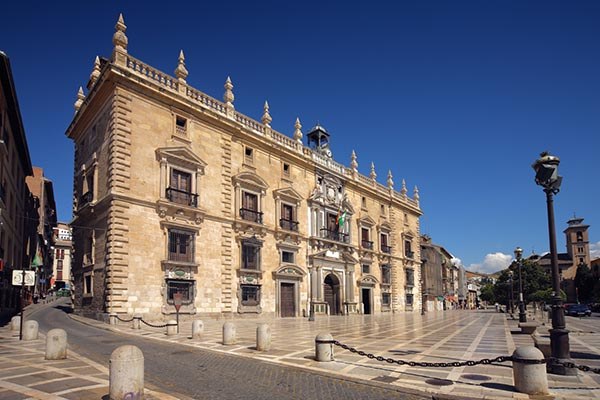 Royal Chancellery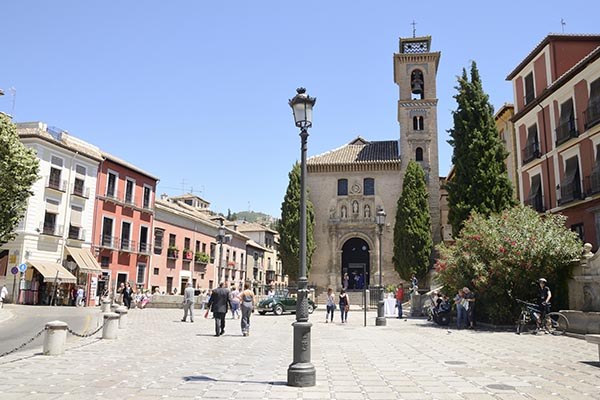 Church of Santa Ana
---
Where is Plaza Nueva in Granada?
Also close by:

Our readers say
4.8
(95.28%)
8
reviews
October 22, 2023
Melissa

: "

We had a fantastic holiday in Granada Spain because of the interesting tips for sightseeing, tourist attractions and visiting the amazing Alhambra.

"