Granada
/
Attractions
/
Paseo de los Tristes
Paseo de los Tristes Granada
Paseo de los Tristes - street towards the Alhambra

Paseo de los Tristes Granada, also called the Paseo del Padre Manjó in Granada. All about this street uphill towards the Alhambra in Andalusia.
Paseo de los Tristes
The Paseo de los Tristes (officially 'Paseo del Padre Manjón') is the most famous street of Granada. Padre Manjón was a priest who founded a school for poor children in the Sacromonte. A bust in his honour still stands opposite the fountain. The street has been parallel to the river Río Darro for 500 years.
Although you would suspect differently on this amazing route and in this stunning environment, the poetic name of Paseo de los Tristes refers to the funeral processions that passed along this road on their way to the Sabika hill nearby the Alhambra. Until the 19th century, the area of Paseo de los Tristes was one of the busiest of Granada, for instance because of parties and festivals. The road was constructed in 1609 together with the fountain.
Paseo de los Tristes & View of the Alhambra
You will probably start your walk from a lower lying area of the city. From Plaza Nueva it is a lovely walk via the Paseo de los Tristes uphill towards the El Albaícin district and the cave district of Sacromonte. Along the way, you will come across various bridges that cross the river, such as Puente de las Chirimias and Puente del Aljibillo. At this last bridge, you have two options after crossing this bridge.
First, you can follow the Canimo del Avellano to the top of the mountain with the 'Fuente del Avellano', or the fountain of the hazel tree. After a fifteen-minute walk, you will have a beautiful view of El Albaícin and Sacromonte.
The second option after crossing the bridge is to go straight ahead/bend to the right and to follow the road up the mountain 'Cuesta de Los Muertos', which will lead you to the world famous Alhambra palace after a twenty-minute walk.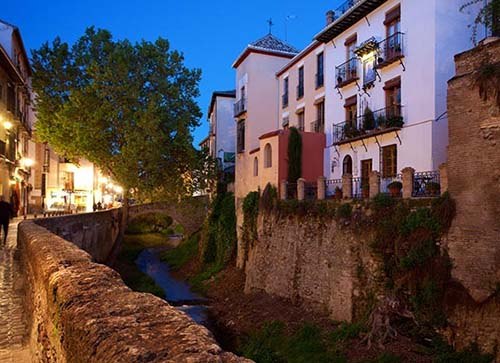 The ancient road toward Paseo de los Tristes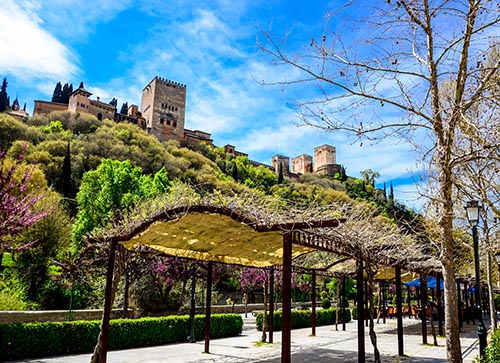 From the Paseo de los Tristes you have beautiful Alhambra view
---
Where is the Paseo de los Tristes in Granada?
Also close by:

Our readers say
4.8
(95.28%)
8
reviews
July 11, 2023
Melissa

: "

We had a fantastic holiday in Granada Spain because of the interesting tips for sightseeing, tourist attractions and visiting the amazing Alhambra.

"