Granada
/
Attractions
/
Monasterio de Jéronimo
Monasterio de Jéronimo Granada
The Hieronymites Monastery in Granada

All information about the Hieronymites Monastery is visited in Granada, also known as the Monasterio de Jeronimos in Granada, Andalusia.
Info Monasterio de Jeronimos in Granada

Address:
Calle Rector Lopez Argueta 9, Granada
Entrance:

The entrance of the monastery is € 4 (Up to 10 years free)

Opening hours:

March - August:
Monday - Sunday: 10:00 - 13:30 and 16:00 - 19:30
September - February:
Monday - Saturday: 10:00 - 13:00 and 15:00 - 18:30. On Sunday there is only a guided tour at 11:00 (€ 7)
Monasterio de Jéronimo: Gothic monastery of Granada
The Monasterio de Jéronimo is the Hieronymites Monastery in the centre of the city of Granada. The Augustinian monastery is dedicated to Jéronimo de Stridon, the patron saint. Construction of the Gothic monastery commenced in 1504 under the leadership of architect Diego de Siloé after the Catholic royal couple took up residence in the city.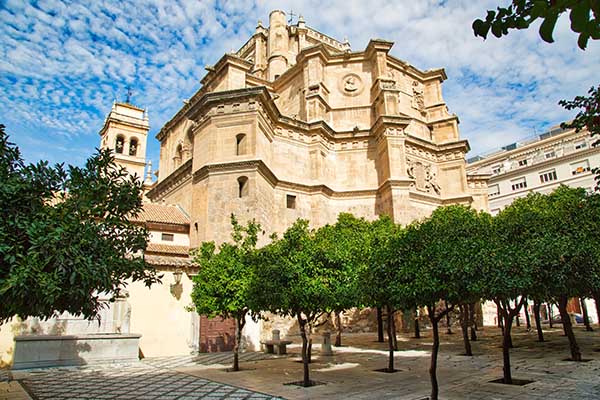 Monasterio de Jéronimo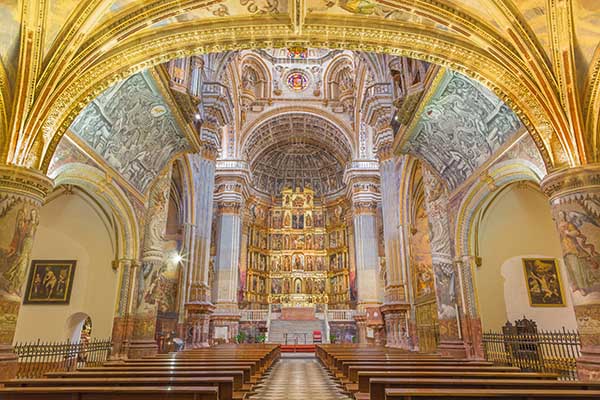 The impressive altar of the church
Architecture style Hieronymous monastery
The church of the Hieronymites Monastery has a typical Augustinian building plan: the typical Latin cruciform with Gothic facades and side chapels, a raised presbytery and atop the wide stairs an impressive altar. The altar work was largely made by Pablo de Rojas and the icons mainly describe the majesty of Gonzalo Fernández de Córdoba (also called Gran Capitán), a former duke who lies buried in the monastery's church together with his wife. This dedication to Gran Capitán occurred in 1523 by order of Charles V. During the Spanish War of Independence, the residents (the Hieronymites) were banned from the monastery and the city.
Tip 1: Also take a moment to visit the Basilica de San Juan de Dios; This church is located only a hundred meters away and is beautiful inside.
Tip 2: If you want to visit more monasteries in Granada, you can also visit Monasterio de la Cartuja, a monastery just outside the city on the northern hill.
---
Where is the Monasterio de Jeronimus in Granada?
Also close by:

Our readers say
4.8
(95.28%)
8
reviews
March 21, 2023
Melissa

: "

We had a fantastic holiday in Granada and Spain because of the interesting tips for sightseeing and visiting the amazing Alhambra.

"